ATTENTION!! PERFECT PLANK PRODUCTION WILL BE DOWN FOR THE HOLIDAYS/MAINTENENCE FROM DEC 25th TO JAN 2nd. AS A RESULT, ORDERS TAKEN AFTER DEC 12th WILL BE SHIPPED WHEN POSSIBLE (EST. BETWEEN DEC 29th AND JAN 9th). WE THANK YOU FOR YOUR UNDERSTANDING AND WISH YOU A SAFE AND HAPPY HOLIDAY SEASON.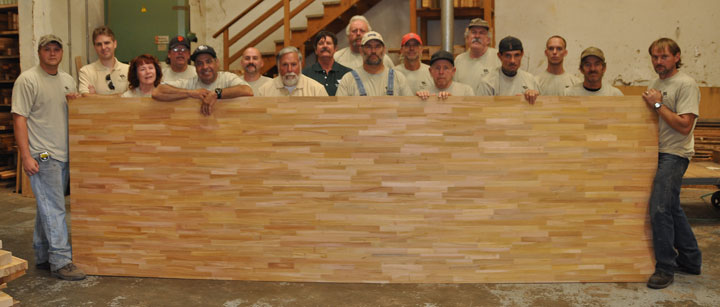 We make them small and we make them BIG!!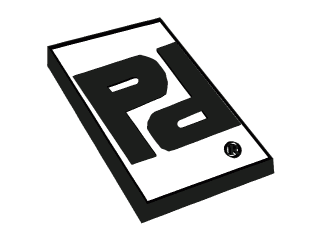 Perfect Plank Co. has been manufacturing kitchen counter tops, islands, table tops, sign blanks and other butcher block products for more than 50 years. We offer a full range of sizes in Alder, Maple, Mahogany, Walnut, Sugar Pine, Jelutong, Redwood and Western Red Cedar. Our products are suitable for all domestic and commercial uses. We can manufacture a single maple butcher block counter top or island for your kitchen, or we can produce 100 maple or mahogany table tops for your rustic Italian restaurant.
We specialize in rapid delivery: Orders received on Friday can ship as quickly as the Friday of the following week**. If there is anybody in the industry with lower prices or quicker delivery, we haven't found them.
Most Perfect Plank is manufactured in the standard butcher block format with narrow laminations (0.75" to 2"). This includes counter tops, table tops, islands and sign blanks. We also offer Knotty Pine table tops and counter tops with wider laminations (3" to 5"). (These are made from full-length strips; that is, NO finger-joints).
In addition to the standard butcher block counter tops and table tops, Perfect Plank can also be used for paneling, cabinet parts, stair treads, and flooring.

Within certain limits we try to promise: ANY THICKNESS (up to 3 1/2"), ANY WIDTH (up to 72"), and ANY LENGTH (up to 16 feet).

For prices and pictures: Pick your species from the menu. You can always receive help from Diana or Adam at our order desk, 1-800-327-1961, between 7:30 a.m. and 4 p.m. Pacific time. Send faxes to 530-533-2814. Or send e-mail to perfectplank@att.net.
Questions? You may find the answer you're looking for in our Q/A Section. PLEASE READ THROUGH IF YOU ARE A RESIDENTIAL CUSTOMER.
** We batch our orders, so an order placed on a Monday (after our Friday deadline) would ship the Friday of the following week. For more information, call or e-mail our main office.
| | |
| --- | --- |
| | BLACK WALNUT--Standard Walnut Butcher Block with 3/4" to 2" laminations and finger-joints. Made from 8" to 24" pieces of Eastern Black Walnut, finger-jointed end-to-end to make strips of desired length. Available in thickness of 1 3/8" and 1 3/4". Widths to 48". Lengths to 12 ft. Appropriate for counter tops, table tops, restaurant tables, islands and bars. |
| | MAPLE--Standard Butcher Block with 1.3" laminations. Made from 10" to 24" pieces of Pacific Coast Maple, finger-jointed end-to-end to make strips of desired length. Avilable in any thickness from 3/4" to 1 7/8". Widths to 72". Lengths to 16 ft. Appropriate for counter tops, table tops, restaurant tables, islands and bars. |
| | WILDWOOD. A lower grade product available in limited quantities. Standard butcher block can have a wide variance in coloration and lamination widths. Available in thicknesses 1 3/8" and 1 7/8". Lengths up to 12 feet in some thicknesses. Designed for work bench tops and other lower quality usages, such as shelving and garage components. Often used for rustic restaurant tops. Species include Maple, Alder, and Walnut. (Wildwood Maple shown in picture to the left) |
| | ALDER. Alder is a favorite of furniture makers and other woodworkers because of its ability to accept stains in a variety of colors and shades. It is slightly less dense than maple, but more machineable. Standard butcher block format with 0.75" and 2.0" laminations. Available in thicknesses of 1 3/8" and 1 7/8". Lengths to 12 feet. |
| | MAHOGANY. As environmental concerns about South American forests have increased, plantation-grown mahogany has emerged as a popular (and less expensive) alternative. These trees were planted at various locations in the South Pacific after World War Two and are being harvested on a sustained yield basis. Plantation mahogany has more color variance and slightly different grain patterns than the South American-grown material. Finger-jointed in thicknesses of 1 3/8" and 1 7/8". |
| | MIRVANA SELECT. Mirvana is lighter and less dense than mahogany but has similar appearance and, unlike most of our available hardwoods, contains no finger joints . Used for restaurant tables, kitchen islands and other interior applications. Available only in 1 7/8" thickness, in lengths of 4 ft, 5 ft, 6 ft and 8 ft**. Laminations widths vary from 1" to 1.6", (but any individual plank will have laminations of the same width). **8ft material and Mirvana with finger joints available in very limited supply. Call for details! |
| | KNOTTY-PINE TABLE TOPS. Manufactured from Sugar Pine native to Oregon and Northern California. Laminations are 3.5" to 6" wide. Available in a thickness of 1 3/4". Full-length strips (No finger-joints). Widths to 72". Lengths to 8 feet. May be special ordered in longer lengths. Appropriate for table tops and restaurant tables. Also used for paneling and ceilings. NOTE: Knotty pine orders often take two to three weeks to produce! 1 3/8" material in limited supply: Available by request. |
| | WESTERN RED CEDAR SIGN BLANKS. Standard butcher block format with 1.4" wide laminations. Full length strips--no finger joints! Available in following thicknesses: 1 1/4", 1 1/2", 1 3/4", 2", and 3". Widths to 72". Lengths to 143". Appropriate for sand-blasted signs, wood-carved signs, and routered signs. Also used for paneling and table tops on occasion. |
| | ECONOMY REDWOOD SIGN BLANKS. Economy Redwood is finger-jointed with 1.4" wide laminations from second-growth California Redwood. Economy Redwood is available ONLY IN 2 3/8" THICKNESS! Some of the Economy Redwood has all heartwood on one face and mixed heart and sap on the back side. Other Economy Redwood is mixed heart and sap on both faces. |